Given the Safer Sex Week activities and some issues raised in a previous post on this blog on barebacking in anal sex I and indeed some others have concerns. It has surfaced also that some HIV positive men who feel that they do not need to practice safer sex anymore as they are already positive simply enjoy sex in a kind of complacency or abandonment thinking that once they are positive once then that is it; there is no need for vigilance, risk assessments and avoidance of re-infections of other strains of HIV which can be more deleterious to one's immune system. Albeit that a trend cannot simply be designated within a year or without strong empirical data but cultural practices however can be used as a sign or guide to said trends developing. Just a cursory glance at some private groups on social media or WhatsAPP for that matter or other platforms such as AdamforAdam and hookup sites/blogs suggest more and more men are openly requesting bareback fun even while declaring their HIV positive status, once kept ultra private, it is as if it is a badge of honour to be HIV positive these days and surviving which maybe encouraging to a certain extent but all too risky in other realms. This may be outside of bug chasing or chasers.


Millennials for example have been declaring discomfort with condoms (an old criticism) and with readily available anal hygiene and enema cleansing products in local pharmacies and sex toy shops for example buffered by a kind of legitimization of barebacking in black gay porn men are daring themselves for share pleasure it seems while ignoring that risks are still high despite better working antiretrovirals and that HIV/AIDS is not a death sentence.
As for the FEMIDOM female condom as an alternative suggested to be used with the inner ring removed that is now being laughed at or scoffed at as the device is deemed too cumbersome and too thick which may be less comforting during sex; with the outer ring also hanging outside seeing it is larger than the rest of the device some say it is like screwing a condom instead of an anus. Indeed this is a sentiment expressed also by older men as well who simply dismiss the FEMIDOM as a balloon to be blown up or used for something else.
also see: Female Condom (FEMIDOM 2) recommended for Gay Sex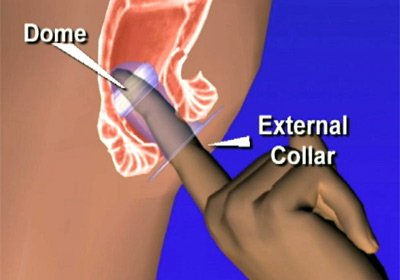 The short lived Origami condoms for example that were supposedly designed for anal sex specifically seemed to be off or discontinued despite a launch campaign and an awareness program online, the uniquely shaped and grooved surface is supposed to enhance pleasure for the wearer and the receptive partner as well probably the latter more so; given the mucosal riddled sphincter area and lower opening with millions or nerve endings. Also see:
World's first condom specifically designed for anal sex 2013 and
Origami Condom Delayed Due to Embezzlement

Hookup demands

My own experience recently with a mystery stalker of sorts who found the number on one of my blogs publicly listed where he repeatedly asked for a hookup of sorts (despite not knowing me) and declaring he wanted it "raw" meaning penetration without any barrier or a condom. While it is tempting to do same as the good old 1980s for example in the height of the sexual revolution somebody needs to remind or inform men who have sex with men, MSM in the form of anal penetration that HIV is still out there.

Complacency or near fatalism

The heightened HIV social marketing through Global Fund funded efforts nationally and other NGO work has helped but seems to hurt the thinking and sensibilities involved. Persons have concluded that if I am going to die from HIV it won't happen soon because I can live long with just a tablet a day similar to other lifestyle diseases as diabetes or hypertension but what some folks seem to overlook or ignore or are unaware of or not properly informed in support groups are that there are several other strains of HIV which while one may be positive with one strain that does not impair their immune systems the newer strain can be far more harmful and only seek to reduce one's immune system to stay sustained. That 'I am going to enjoy my life' thinking no matter what is still out there if one is to go by the comments on blogs and porn related fora on social media. Yes the ARVs or HAART treatments are effective in terms of control of Viral loads and improved CD4 counts but missing dosages too can be a challenge; a point that was forcefully made recently on Facebook by an advocate to a young man who insisted he was going to "Fuck til mi dead"

Hot pumped gym and tattoed bodies, well endowed persons coupled with objectification and just the sheer excitement for younger MSM can turn persons into tongue wagging excited persons who end up making wrong or misguided decisions about sex in the heat of the moment. Sadly the Safer Sex Week impetus is near silent on anal sex between men publicly and seem to want to the rely on the hetero-normative sexual relations psychology to trickle over into gay culture. That type of messaging does seem to be getting through to some, I have heard some men say that when they are with a woman they use condoms with them but when they are with a man they don't as anal sex is better to them in terms of feelings and the 'grip factor' and that includes men who do not identify as gay, given that the concept of the word for some is loaded woman aspiring oriented and so called thugs do not want to be a woman but they still hit ass under the radar. There are other psychologies involved stemming from the prison systems as in prison wife culture, gay for the stay psychology and indeed curiosity that seems to be overlooked by the folks who design these fluffy, sometimes simplistic and patronizing sounding campaigns.

Those intersectionalities with gay men who self identify and those men who don't with the latter thinking that bareback sex is an escape from reality and therefore no thought of risk must interfere cannot be left out of the mix. There are men out there who really believe that they are not at risk once I do it with a men in secret and that the secret albeit without a condom will not expose them to HIV risk; whilst seeing heterosexual sex as the one to use a condom with an outside female partner other than the babymother or wife. At some point there has to be a reality check and a tie-in of those sub cultural matters.

Touching the anal hygiene matter hinted above while the 'hole maybe clean' there is the business of that hole being 'too clean' meaning the so called good bacteria maybe washed away if one is not too careful, although the self adjusting PH balance Fleet enemas products for example are out there to help to avoid that destruction of those bacteria if one uses other non traditional forms of cleansing the area is exposed without physiological defences naturally. Barebacking especially almost immediately after a cleansing or enema exercise can leave one open to infection if the penetrating partner is infected to transmission of STI including HIV. There are persons who believe that a clean hole by virtue of it being 'clean' of faecal matter and odours that all is well afterwards for penetration. Some persons suggest that even rimming (using the tongue to stimulate or even penetrate the anus/sphincter muscle) is OK after an enema but I surmise that a simple pleasurable rim session will not just end there, at some point someone is going to be probed to the ultimate pleasure of it.

The gay porn industry is thriving on bareback for sales even while showing disclaimers in the opening sequence of DVDs and streams identifying HIV risking and encouraging testing and single partners; the challenge is that that disclaimer only runs for a 30 second or so period while the rest of the movie sometimes up to two hours long is all about the ass and dick of it thus almost killing the important message.

Antigay (un)bareback anal sex abhorrence

The very bareback issue and the sex police of religious fanatics have sought to capitalise on the matter to enhance their push for maintaining a 486 year old buggery law with all its amendments and adjustments in between. Anal sex bareback or not is not the untidy affair as some such as Dr Wayne West of the Jamaica Coalition for a Healthy Society JCHS has sought to present it to his loyal following and misguided or ignorant persons. He has sought to use the thin lining nature of the area to suggest we are deserving of an HIV as the transmission will be greater which is true but so it is also for the vagina provided if the penetrating partner is already positive. But intellectual dishonesty is part and parcel of the strategy even by so called Christians who misplace God's purpose to promote hate.

Encourage monogamous or outer-course sexual activity as an option more

Even monogamous unions with uninfected partners and trust have to also consider safer sex issues I suggest; as safety and hygiene are crucial especially the latter but I get the impression that such other considerations are not part and parcel of the MSM interventions more forcefully. Suggesting non-penetrative sexual activity via a penis seems all but missing from the scheme of things is one is to take into account the discourse on sexual matters with younger MSM. I have been trying via my blogs to promote proper anal health but one blogger is not enough and I do not get the feeling

The message has to be repeated more loudly in terms of the risks involved and more openly about barebacking; after all buggery is not proven by mere eyesight but a physical examination by a doctor providing that the accused did not take a shower or enema in between the accusation, the arrest or detention pursuant to preparing the doctors' report; a report premised on the thinking of no barrier sex and residual materials left behind in or around the anus or sphincter muscle. The doctor's report unfortunately even in today's world is still prepared on a thinking of no condoms used in the act in the first instance, it is usually after the examination or during that the harvested samples or culture related spermicidal findings that in the comments section of the standard form the doctor may make a note of the presence of spermicidal material to indicate a condom was present. The reluctance by the NGOs and the national program to openly speak to anal penetration way more forcefully seems a little ridiculous or near unfounded to me in addressing risky behaviour linked to men who are going that route for sexual pleasure.

More anon

Peace & tolerance

H

also see: