So CNN carried a piece on the awful Jamaica's lotto scamming problem and naming the late Kenrick "Bebe" Stephenson especially in the face of the death of two elderly persons in separate incidents, sadly sections of the gay community have been fingered for being involved in the crime and as some ghastly consequences flow allegedly out of the scourge in predominantly western Jamaica where Bebe also hailed and was murdered the allegations have been growing yet again.
Here is my May 2014 post on Bebe's surprise murder:
Longtimer "BeBe" Murdered in Western Jamaica
"Kenrick Stephenson, known simply as Bebe, is credited with being the country's first lottery scammer. His hub sprang out of Granville, one of Montego Bay's poorest and most dangerous neighborhoods. Bebe trained, recruited and cultivated young scammers.
Mansions popped up, taking over land where squatters dwelled. Expensive cars cruised the streets. Scammers flashed their bling. At the gates of call centers, scammers lurked, offering money to anyone who would provide lead lists.
But even the godfather of lottery scams wasn't immune to the spiraling violence. Bebe's life was snubbed out gangland-style at the gates of his mansion in the plush Ironshore neighborhood of Montego Bay in May 2014.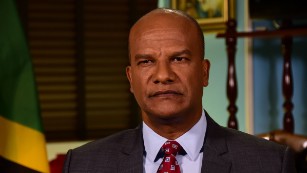 Jamaica National Security Minister Peter Bunting says the scams have scarred the fabric of his country.
Showing how intricately tied scammers are within Jamaican society, Bebe was a prominent gay activist and powerful figure within the ruling People's National Party. When he was killed, a party member said he would be "sadly missed." His casket was said to be made of gold.
Top officials know that the stakes are great. If the violence moves closer to the resorts and scares off visitors, the nation's economy would crumble. Its multibillion-dollar tourism industry counts for about 90% of the economy.
"We have to have a zero-tolerance approach," Bunting says. "We need to establish that this is as much a crime as drug trafficking, as much a crime as if you held up somebody with a gun. It is in some ways even more cruel because of the age and the vulnerability of the victims."
It seems the minister is using Bebe's association to separate himself and his party from the perceived hugging up of questionable persons in the eyes of the public, how hypocritical yet they embraced him when he was popular and held a powerful position on their behalf in Montego Bay.

A matter last month for example where two men were burnt in a car also had tongues wagging that they were just more than persons who ran afoul of one of the gang leaders in terms of stealing a sum of money from a stash that was to be delivered to said gang leader; when it was discovered the punishment was exacted. An arson attack at a house only this morning in Hanover of all parishes as the once peaceful quiet rural districts have seen an unraveling that is shocking to watch with one week for example prior to the anti gay rally in Half Way Tree Kingston 23 persons were murdered in the parish. We need to be careful as while we observe the issues we do not condemn persons without proof simply because the police barring their poor and missing evidence carry out a propaganda show that persons who are killed or shot are automatically guilty and deserve what they get. Our sense of feelings for others nationally seems numb.
Nationwide News carried Bebe's murder:
PNP FB post on the matter

The police have been cracking down on the scamming problems and as the doors close in and lack of opportunity for young persons coupled with an unwillingness to work/study as the get rich quick attitude all kinds of murders, arson and crimes too numerous to keep up have been occurring. Then there is a disturbing twinning or legitimize such actions with reparations or their ability to get jobs etc so they do not see it as wrong which adds more fuel to the fire despite police crackdowns. Vybz Kartel's song only gave such legitimization a seemingly credible look and normalization: (take note the anti gay introduction)

The recent runoff in St James under the PNP constituency representation race involving Lloyd B Smith brought lotto scamming influence front and centre as Smith lost the race he squealed corruption was the cause ad hinted by threat of public exposure if there was not a recount or re-run which came but he subsequently withdrew.

Indeed we have had some members in the LGBT community if we really want to be honest in lotto scamming and we have seen persons get rich almost overnight with flashy lifestyles and such; such involvement in fact was a deterrent to the homeless LGBT visibility predominantly in Kingston but with the fall from grace of several leaders including Bebe the populations that used to be aided by some of the rich folk are left to languish thus adding to an already cancerous problem which also explains the increase in numbers over the years. Several drag queens and personas on the party scene have been on the radar for years as the police with overseas federal agents investigate and crack down on them. We have seen arrests of some faces overseas while others have said to have sought asylum allegedly in running from the arms of the law.

Persons like Bebe was also involved in some interventions prior to his sudden rise in power as part of the People's National Party, PNP machinery as its western Vice president and also a party promoter in Montego Bay at the now defunct Calabash Club where I carried out contracted disc jock services then.
see:
BIG BLOW FOR HOMELESS/DISPLACED MSMS IN WESTERN JAMAICA ….. 2011

THUGS WARN DRAG WEARING SCAMMERS 2012
The club also featured in a police crack down as carried on my GLBTQ Jamaica Wordpress blog when some displaced/homeless persons were forced to leave as cops virtually destroyed the facility in a raid allegedly without a search warrant. JFLAG and others went on the defensive to try to allay the fears and perceptions that gays were involved and some members of the police high command felt vindicated of their strong suspicions of the suggested involvement some time ago. My resident DJ days at rival club Club Heavens tried to fill in the gap with their management but to no lasting avail as funds were not available for upkeep and development which is one reason why my blogs agitation on homelessness is so consistent as the persons who seem more interested in addressing same are the same persons who are of questionable character more so than the formalized NGOs and LGBTQ advocacies.

Sadly when persons who are involved directly or indirectly in advocacy or inventions alongside non-governmental organizations and advocacy who are of questionable character it is bound to cause some smearing or scarring of the NGOs involved. One can remember the rebuff meted out to a popular drag diva and others who offered money to a Safe House LGBT homeless outfit in Kingston and the Jamaica AIDS Support for Life management said they could not take such grants as it couldn't be verified as legitimate. Then there was the police raid as JASL in 2010 with no less a person than Mark Sheilds then seeking out a suspect who was making such lotto scamming calls from JASL's offices then when it was located at 4 Upper Musgrave Avenue and the person was a staff member close to the project then prior to its premature closure. Another popular trans/drag persona who was seconded for spokesperson duties for JFLAG and who now resides overseas is also under investigation I was able to confirm some time ago; but she now lives overseas and those in the know are wondering will she fall especially after the arrest recently and plea deal of another major network man on the US and who has been squealing naming persons in exchange for a lesser charge or possible prison sentence. A recent extradition as well of another main person as described by the police also has had some gitters or shock waves sent in some quarters.

I am deeply disturbed and concerned as before on other related issues that this latest spotlight on lotto scamming placing LGBT persons as key players and leaders may hurt an already far less credible LGBTQ advocacy overall and the bent image nationally speaking. A recent gunman invasion of a house in upper St Andrew only adds my unease as allegations of reprisals ring loudly on money stolen allegedly by a rival scammer. Walls of disbelief in terms of crisis communication linked to advocacy already cripples the work in the struggle and the voices are seen as liars or mis-leaders albeit some unethical and dubious words and actions from some only adds fuel to the fire. We have to separate the issues here and also be mindful of who is who and who is doing what and when. These things have a way of coming back to bite us in the ass as it seems with the CNN report; radio discourse surrounding the matter and indeed some social media comments although overshadowed by the uproar on the Cameron/prison deal/govt damage control stills holds a seemingly majority attention; suggests gays are dishonest overall and must therefore not get any rights and that the very recently concluded Cameron visit has implicit a secret LGBT agenda of deceit and forced homosexuality. Sadly Cameron said move on with the business of slavery but locally we say move on when it comes to murders of girls as the four students recently, atrocities and homophobia, ignoring ethical considerations when working with placing persons of questionable character in certain positions is disturbing to say the least.

Let us see the response to this if any to this latest salvo and twinning of advocates and questionable characterizations or behaviour.

Peace and tolerance

H